Fitness Studio
Management

Software
Intuitive and cross functional management software designed to level-up and automate your fitness business.
REQUEST A DEMO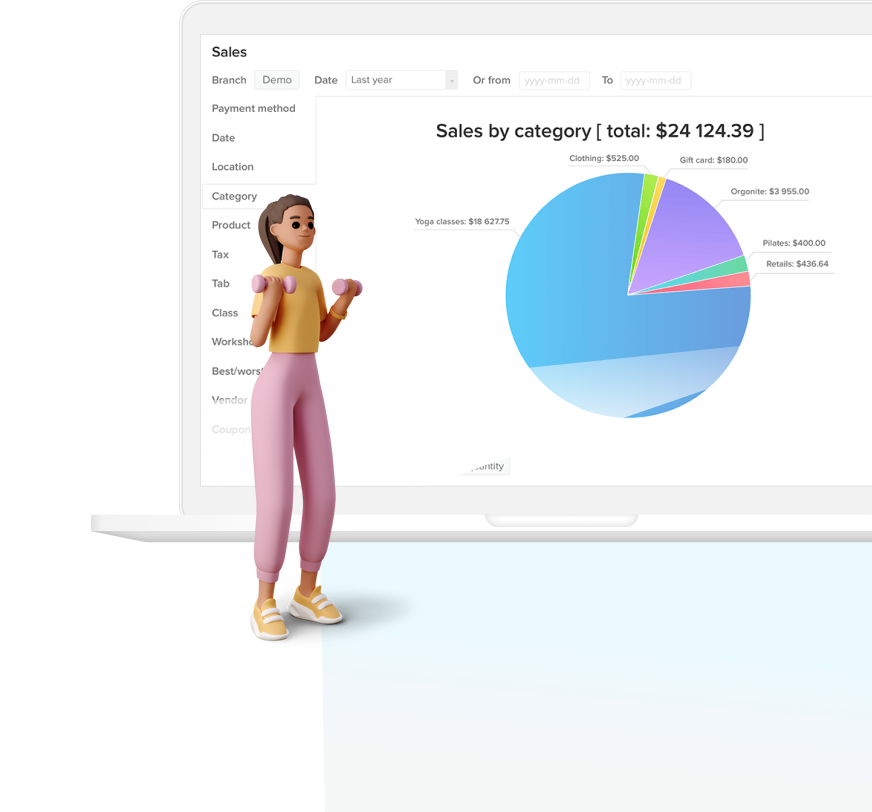 Increase business agility with out-of-the-box
fitness studio management software
Cut time for manual operation tasks, connect with studio members and convert them, manage your staff and more - all in one accessible place.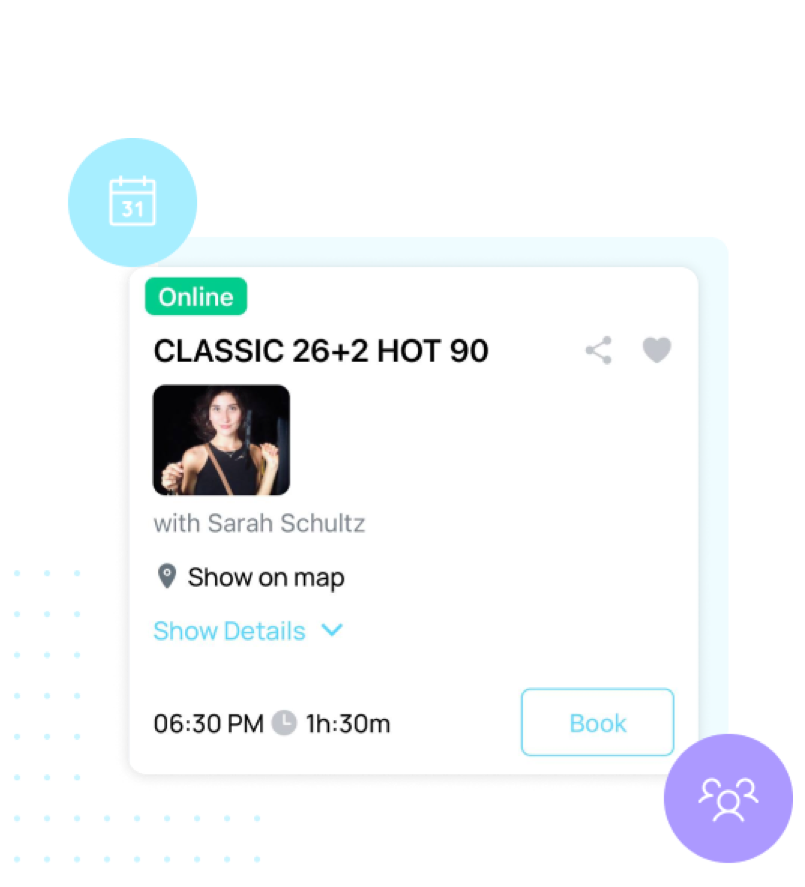 Staff and schedule


management

Monitor and operate classes and staff digitally with Karmasoft fitness studio management software:
Customizable staff portals to manage their calendars, track work history, and book members into classes.
Class substitution and assignments management to keep your studio in sync.
Secure calculation and storage of the instructors & staff payroll, attendance statistics and more.
Predefined roles and permissions to assign a unique login to each employee.
Get a Demo
Learn more
Boost

Sales

Provide your fitness studio members and newcomers with flexible online access to purchases and bookings with Karmasoft fitness studio management software:
Create membership packages, gift certificates giving the easy way for your clients to purchase them right on the website.
Upload recorded classes into Karmasoft and create a monetizable online library of videos.
Let members buy products of your fitness studio with a customizable eCommerce store created in seconds.
Benefit from a fully integrated payment processing to keep in-studio, website, and in-app payments in one place.
Get a Demo
Learn more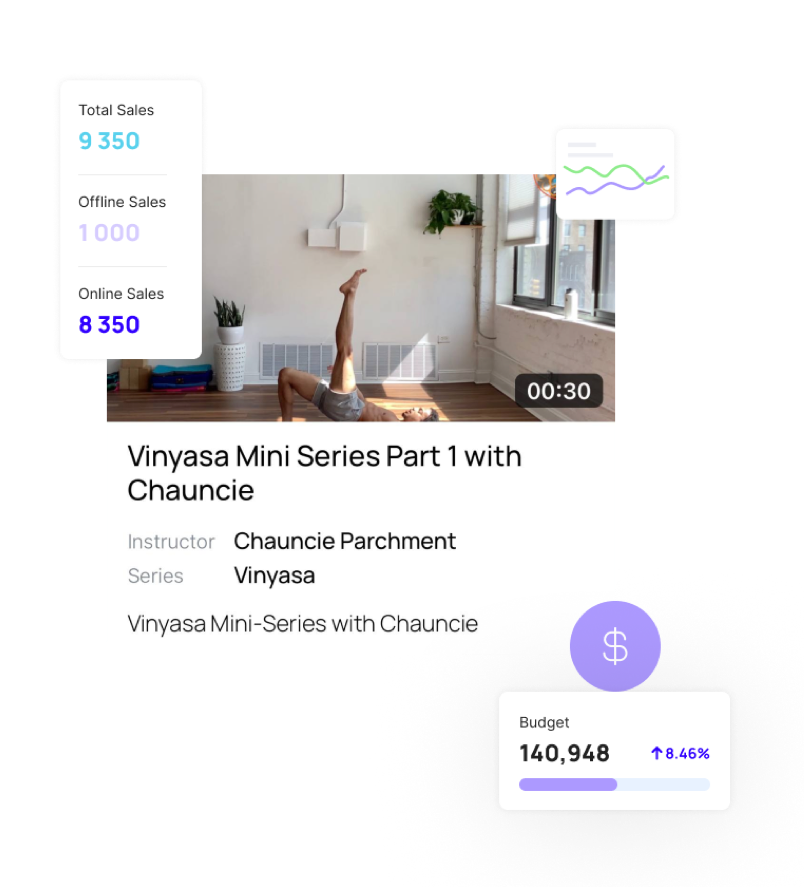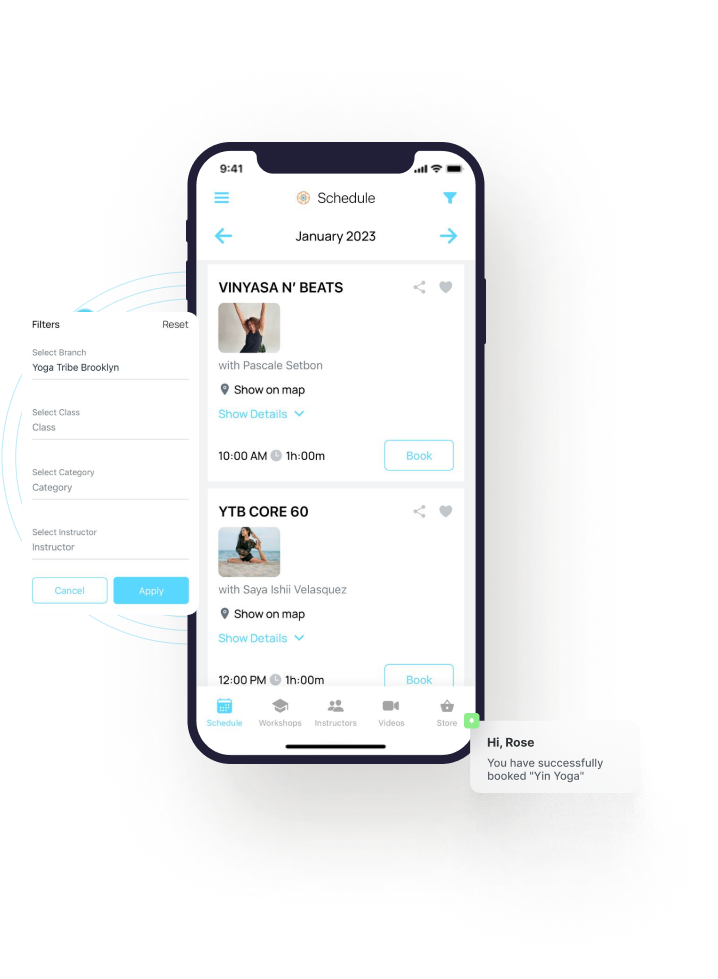 Free

Mobile App

Monitor and operate classes and staff digitally with Karmasoft fitness studio management software:
Amplify your members' experience with our custom, brand-focused mobile app for iOS and Android.
Members of your fitness studio can book classes, reserve a spot, check remaining classes and attendance history, redeem gift certificates, and pay for products anytime, anywhere.
Get a Demo

Get Started with Karmasoft
fitness management software
Sign up now, it only takes 3 minutes.


Keep in touch


with members

Karmasoft fitness studio management software provides CRM features to know your clients, interact with them at every stage of conversion, and automate marketing campaigns:
Segment your clients with automatic сustom tags based on their last purchase.
Create targeted email campaigns to boost retention: send special offers and notifications composed in seconds.
Leverage automated emails to alert clients when their membership is expiring.
Market across channels: automate social media posts, SMS notifications, share the schedule and booking tabs directly on Facebook, and more.
Get a Demo
Learn more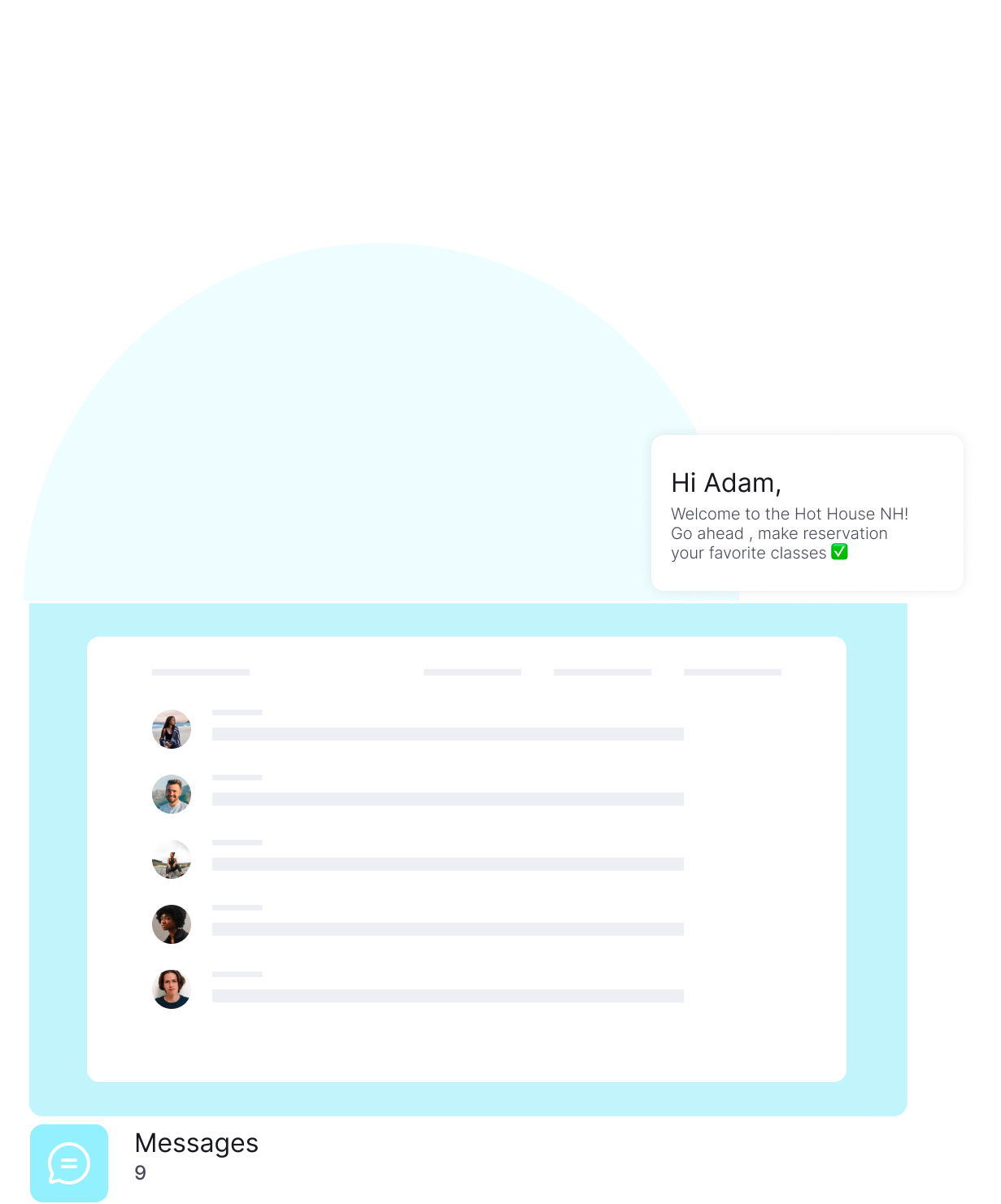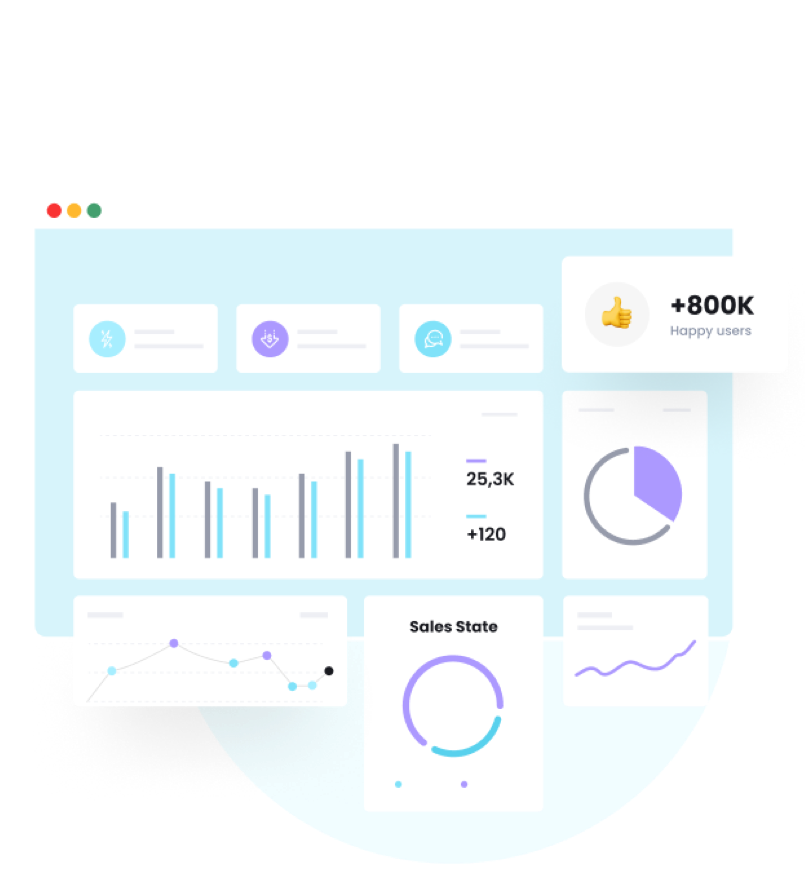 Track business

insights
Monitor efficiency and get deeper understanding of your fitness studio success with actionable reports:
Track sales reports detailed by cash flows, products, workshops, coupons and more.
Keep up with payroll reports for your studio staff and instructors. Set, manage and export payroll data within on place.
Define the most effective marketing campaigns; track converted studio members, returning/not returning clients With Karmasoft marketing reports.
Keep a close watch on your expenses, track attendance and daily activities to optimize resources and budget effectively.
Get a Demo
Learn more
Boost

profit and efficiency


with Karmasoft
A fitness studio management software offering smart sales, marketing, and staff management tools that will help you grow!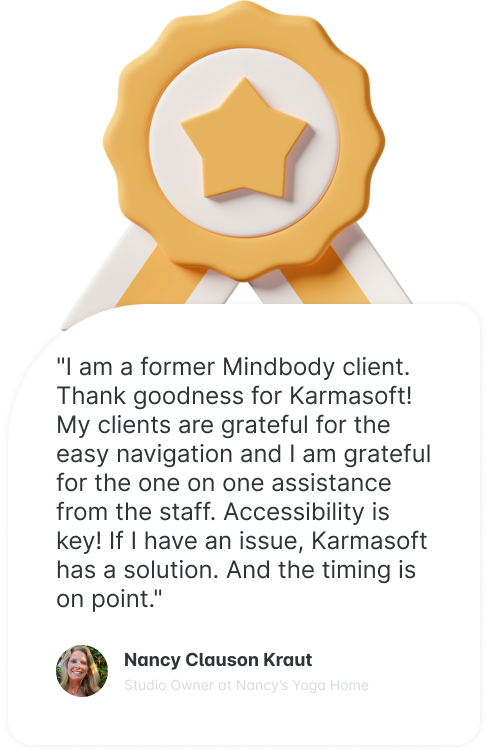 What clients say about Karmasoft
" I had reviewed at least a dozen software options before finding Karmasoft. They are the only software that gave me everything I needed. From the way I structure my timetable, my memberships and passes, workshops and events, they have really thought about everything. They have actually thought about how a yoga studio operates and have developed features accordingly!"

Anjana M., Owner/Director
" Within a DAY of the shutdown (SIP) requirement to us locally KarmaSoft has integrated a smooth system to meet our teaching needs. Within the next few weeks they had streamlined even that process so that it was fully integrated into the class creation process. "





Kyczy H., Studio Manager
" Karmasoft truly made it possible to discard the paper tracking of students, attendance, payroll. Karmasoft can be credited with making Yoga Sanctuary a leading health and wellness studio in our metropolitan area.T he entire Karmasoft Team truly cares that my studio remains viable. They are willing to help at the drop of a hat when I am struggling. "



Lissa S., Owner/Program Director
BLOG POST
Tips and
Solutions
The latest articles, best practices and relevant information to make the best of the Karmasoft platform.
Are you ready to transform your studio?
Karmasoft was designed by real studio owners, who know what it's like to run busy studios in a city that never sleeps. That's why our software puts your business first, giving you the tools to simplify your daily operations and increase profit margins, whether it's your first day or you've been open for 20 years.
Frequently asked questions
Do I have to sign a long-term contract?
No. No commitment or contract is required, you pay monthly and can cancel anytime without penalty.
---
Do you charge per user/login account?
We do not charge per user/login. Every package includes unlimited users and data. Our prices are all-inclusive.
---
Can I use Karmasoft from my tablet or mobile?
Karmasoft client and staff portals are designed to automatically adjust to any device. Simply sign in to your account with any mobile or tablet browser and you're all set. The Studio portal is designed to work on desktops, laptops and tablets.
---
Can I import my data from another provider to your fitness studio management software?
Yes. We will convert your data from your previous system or from a well structured spreadsheet. We can import data from almost any source. Data conversion is always free.
---
Can I get help setting Karmasoft up?
Yes. We offer free support and staff training to get you started. We know you are busy, and we are happy to help anytime you need us. Free of charge, of course.
---
What are the system requirements?
Karmasoft is available from anywhere with an internet connection. There's nothing to install, all you need is a web browser. We recommend the latest commercial versions of Chrome, Safari or Firefox.
---