Make your yoga
and fitness studio
a
success
With sales, marketing and social media tools included in Karmasoft yoga studio software that will help you grow.
REQUEST A DEMO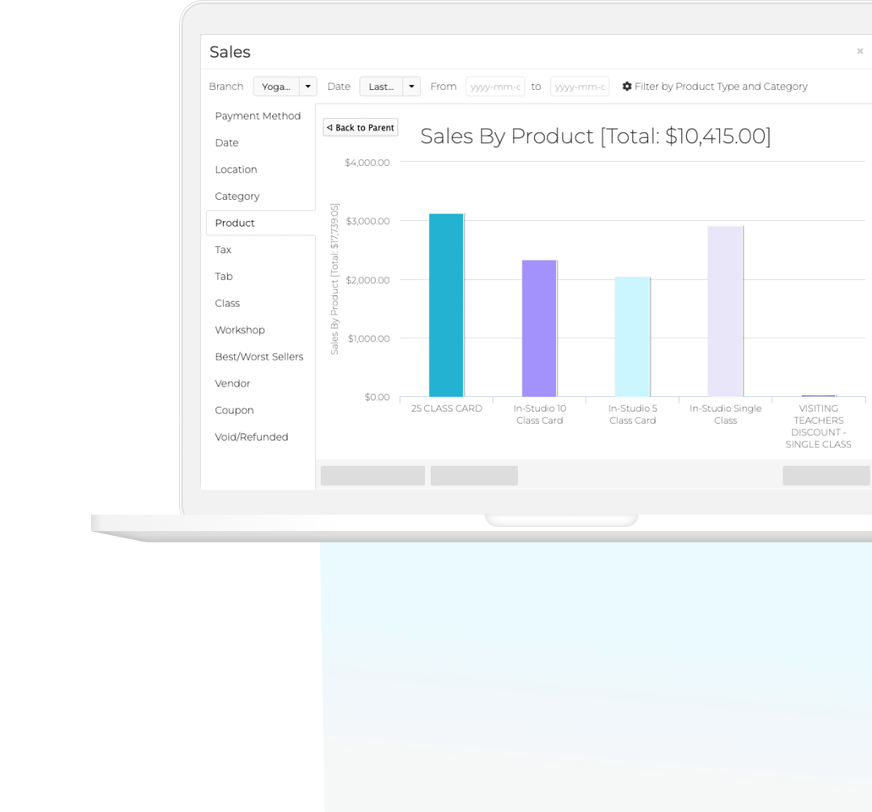 Online
Booking
With Karmasoft yoga studio software your customers and millions of users can book your classes and events online.
Embed you class schedule, store, videos and instructor bios easily onto your website, then enjoy real-time updates.
Use our free mobile app for iPhone and Android, so your customers can book classes/workshops and pay on-the-go.
Post your schedule and booking tabs directly on your Facebook business page.
Get a Demo
Learn more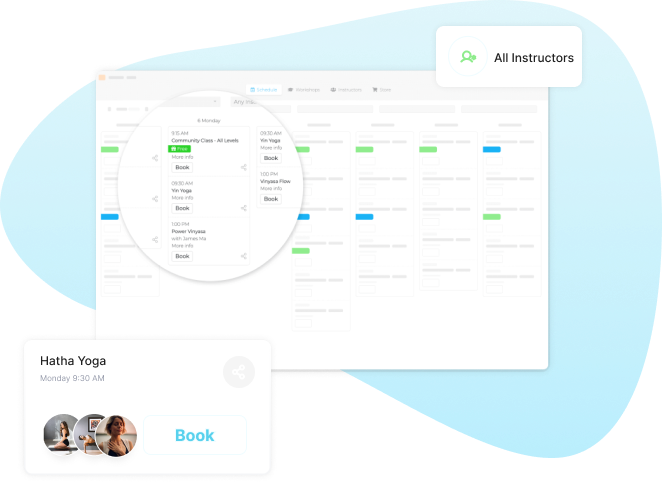 Decode Your Yoga Studio's Hidden Potential

Take our exclusive Growth Evaluation Test now to find out your studio's strengths and weak spots and get free tailored recommendations for improvement.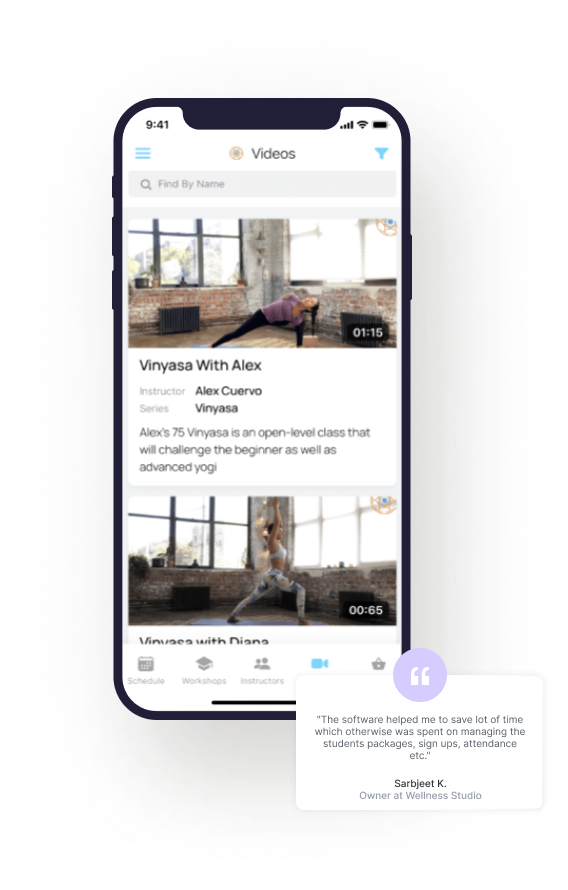 Connect


with your students

Keep track of clients in one place:
Segment your clients with custom tags assigned automatically based on their last purchase.
Get great insight into every client, including attendance history, sales and more.
Create marketing lists based on custom tags; get feedback from your yoga students with surveys; track responses and follow-up quickly and easily.
Manage tasks, keep clients-focused communications and nurture your customer base to grow your yoga studio.
Get a Demo
Learn more

On Your Website
Sign up future members with lead capture forms that integrate perfectly into your website.

On Mobile Devices
Students can use our free mobile app for iPhone and Android to book classes and pay for products anytime, anywhere.

On Social Media
Your classes can be booked directly from your Facebook business page.
Streaming,


On-Demand
and In-Studio

Rev up growth with streaming, on-demand and in-studio classes all integrated within one platform:
Simply upload your recorded classes into Karmasoft to create a monetizable library of videos.
Sell series, class cards, and memberships by class type.
Integrate Karmasoft with Zoom or other streaming services.
Improve cashflow and business resilience with multiple revenue sources.
Get a Demo
Learn more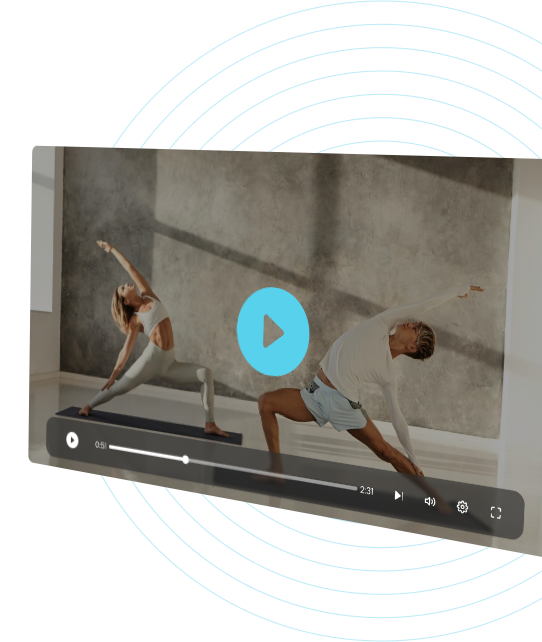 Live Stream
We will automatically create your Zoom meetings and share them with your students. We make it easy for your staff to start the meeting from within Karmasoft. Don't use Zoom? Use other online streaming providers too.

On-Demand
Record and upload your video resources. You can quickly and easily monetize your recorded classes. Create membership packages that can be used for live stream / on-demand and in-studio classes.

In Studio
Control attendance with in-studio classes, track and communicate with your students with a simple click or send targeted emails based on dynamic critera. We make it easy to keep in touch with your students.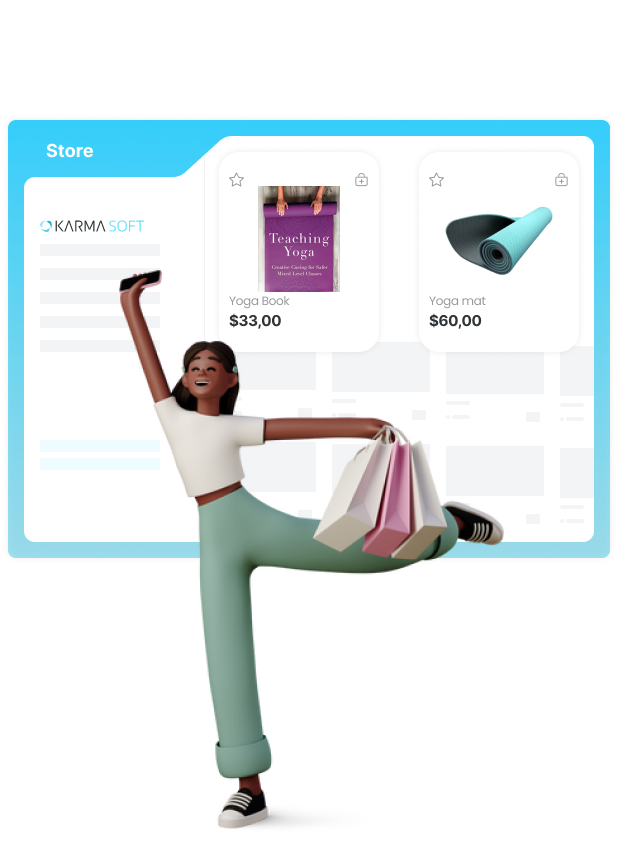 Sales


and Credit Card Processing

Our integrated point of sale (POS) helps you manage your studio, increase your profits, and be more productive with less effort:
Build your online store in seconds, so you can start selling immediately.
Sell products, workshops, classes and memberships online.
Integrate payment processing for both online and in-studio purchases.
Setup recurring billing quickly and easily.
Get a Demo
Learn more

Online Store
Customers can purchase your classes, memberships, and products from any device—on Facebook, from the Karmasoft app, and on your website.

Merchant Account
Karmasoft enables fully integrated payment processing, so you can keep in-studio, website, and in-app payments in one place.

Recurring Billing
Increase your monthly cash flow using flexible recurring billing with direct payment.
The
system

you wanted!
Without the limitations

All the features you want, without any of the limitations.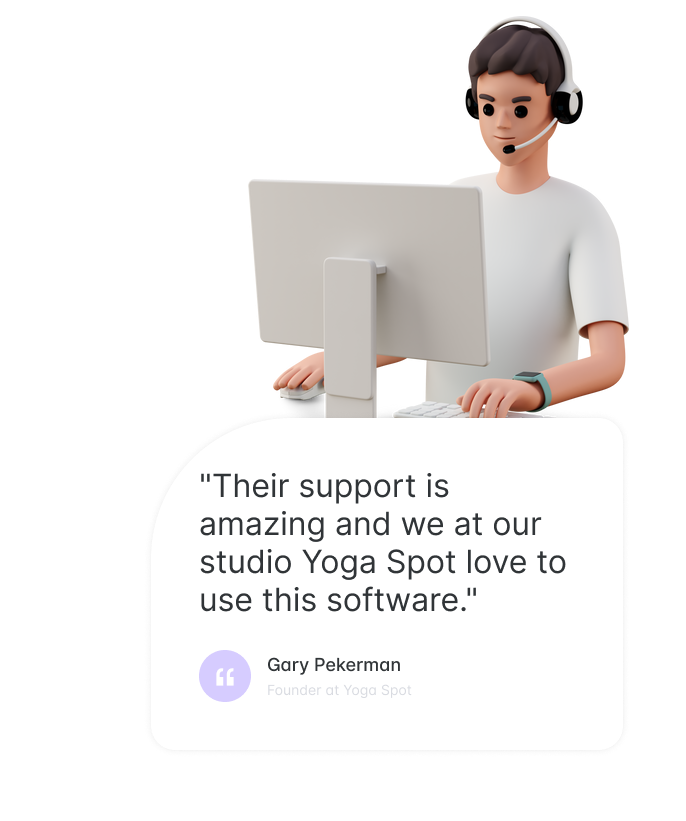 Get Started with Karmasoft
yoga studio software
Sign up now, it only takes 3 minutes.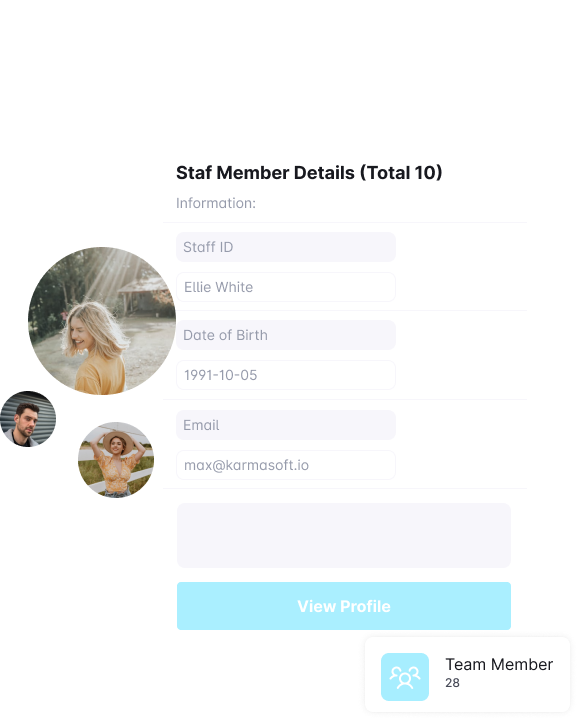 Staff Schedules &

Payroll
Keep track of clients in one place:
Manage staff assignments and substitutions.
Manage class substitution requests within your email.
Store and calculate employee payroll.
View and manage teacher schedules.
Get a Demo
Learn more
Marketing


and Surveys

Karmasoft includes the best marketing tools to grow your customer base, simplify your day-to-day operations, and increase your profit margin:
Convert every marketing report into an email campaign.
Automate social media posts, email campaigns, and SMS.
Create customized email templates with signature capture.
Promote special offers to specific customers.
Get a Demo
Learn more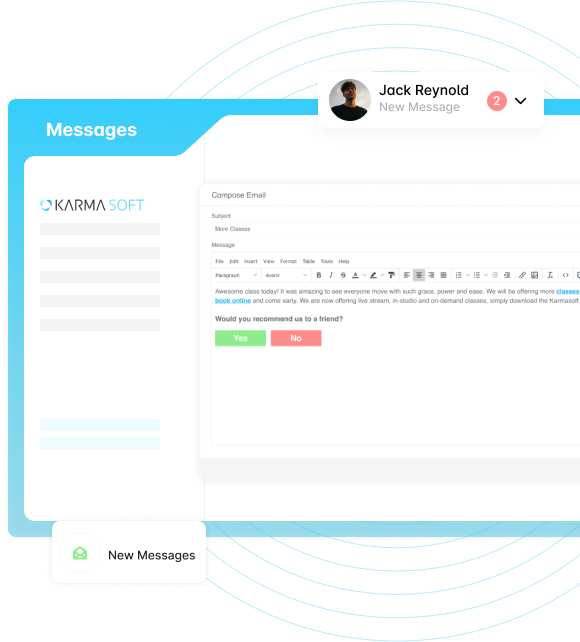 What clients say about Karmasoft.
"Overall experience so far had been amazing. I am so happy that I found Karmasoft .The software helped me to expand my business much faster than what I expected. The software helped me to save lot of time which otherwise was spent on managing the students packages, sign ups, attendance etc."




Sarjeet K., Owner and Director
" I had reviewed at least a dozen software options before finding Karmasoft. They are the only software that gave me everything I needed. From the way I structure my timetable, my memberships and passes, workshops and events, they have really thought about everything. They have actually thought about how a yoga studio operates and have developed features accordingly!"

Anjana M., Owner/Director
"Karmasoft made it so easy for us to manage our Students' accounts and process payments. The reporting functionality is fantastic, we could quickly and easily see which classes were hits and which were misses. We really appreciated how easy it was to use and how quickly the team at Karmasoft worked to help us when any issue arose."



Kelly K. , Office Manager
Are you ready to transform your studio?
Karmasoft was designed by real studio owners, who know what it's like to run busy studios in a city that never sleeps. That's why our yoga studio software puts your business first, giving you the tools to simplify your daily operations and increase profit margins, whether it's your first day or you've been open for 20 years.