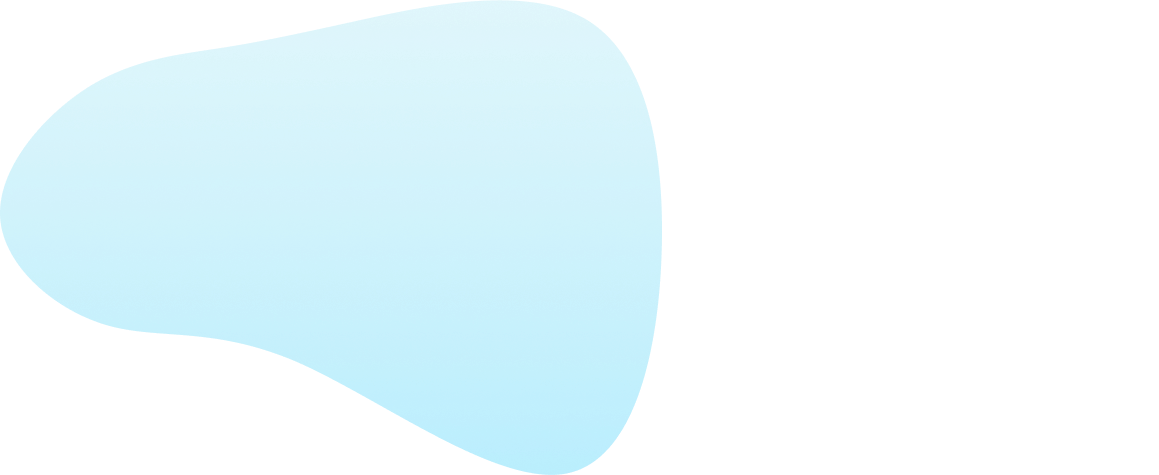 Yoga Class Booking
& Scheduling
Software
More than just a booking & scheduling solution for your yoga studio.


Get a Demo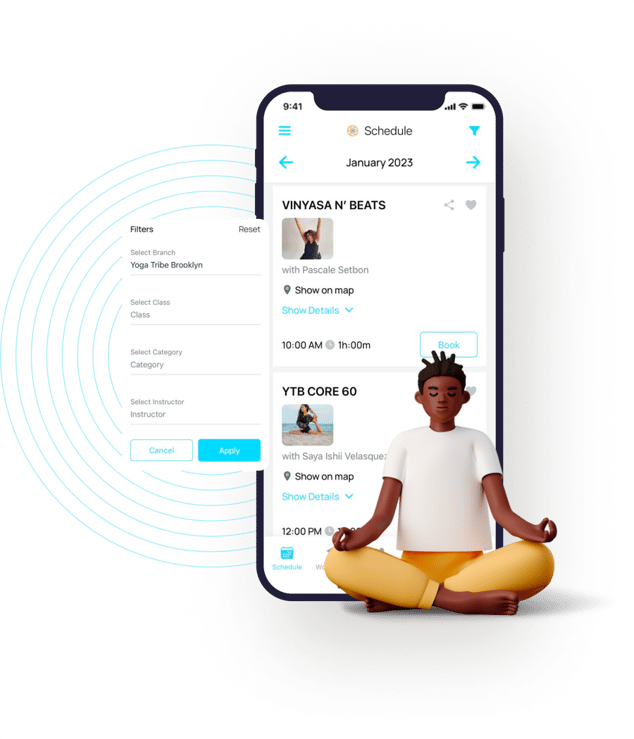 Manage schedules & subs

anytime anywhere
Karmasoft Instructor's Portal enables teachers to access schedules to view their upcoming classes, request subs and enter teaching-related expenses.

Assign
Assign a teacher to a class in a few clicks. Send timely email and text notifications of upcoming classes to your staff.



Sub
Within the Instructor's Portal, studio owner or manager can sub a teacher for a single class, edit or request subs. A teacher can also request a sub.

Take Control
Booking a student into a class allows teachers to save time by booking a student into a class or workshop directly from the schedule.
Share schedules on your
website & social media
Use our ready code snippets to embed the schedule on the studio's website and allow students to book your classes online.
Patterns' colors in schedules can be easily customized to fit your website's palette.
You can also share the studio's schedule on Facebook and Twitter in a few clicks. Or you can enable auto sharing, so the class is automatically published on social media once it is scheduled.
Request a Demo
Learn more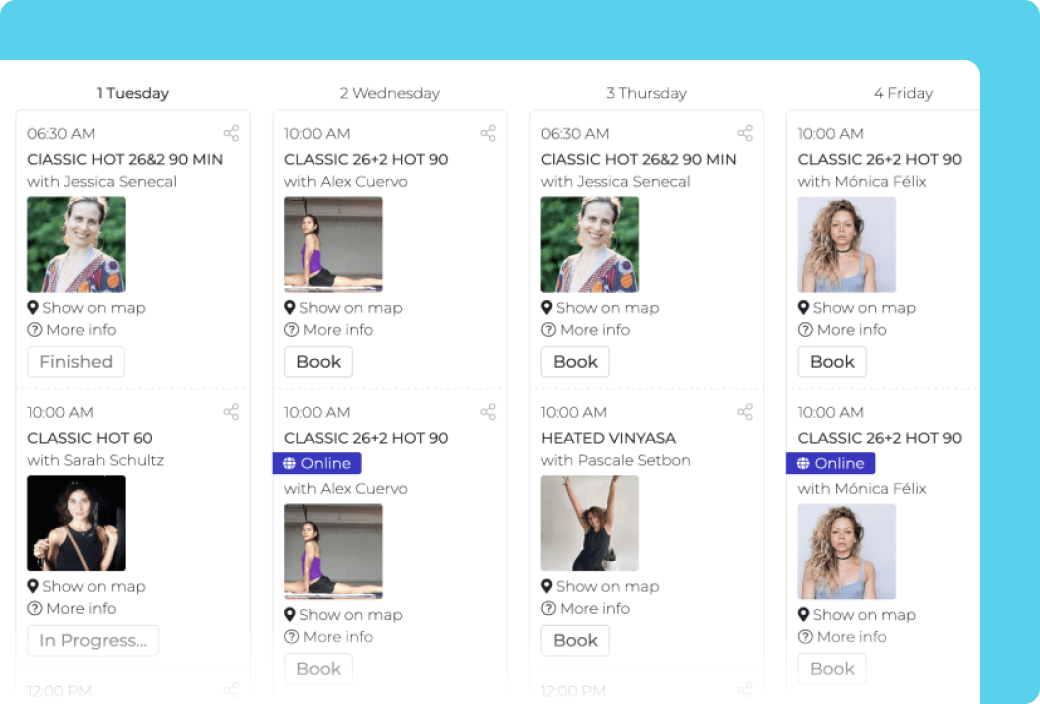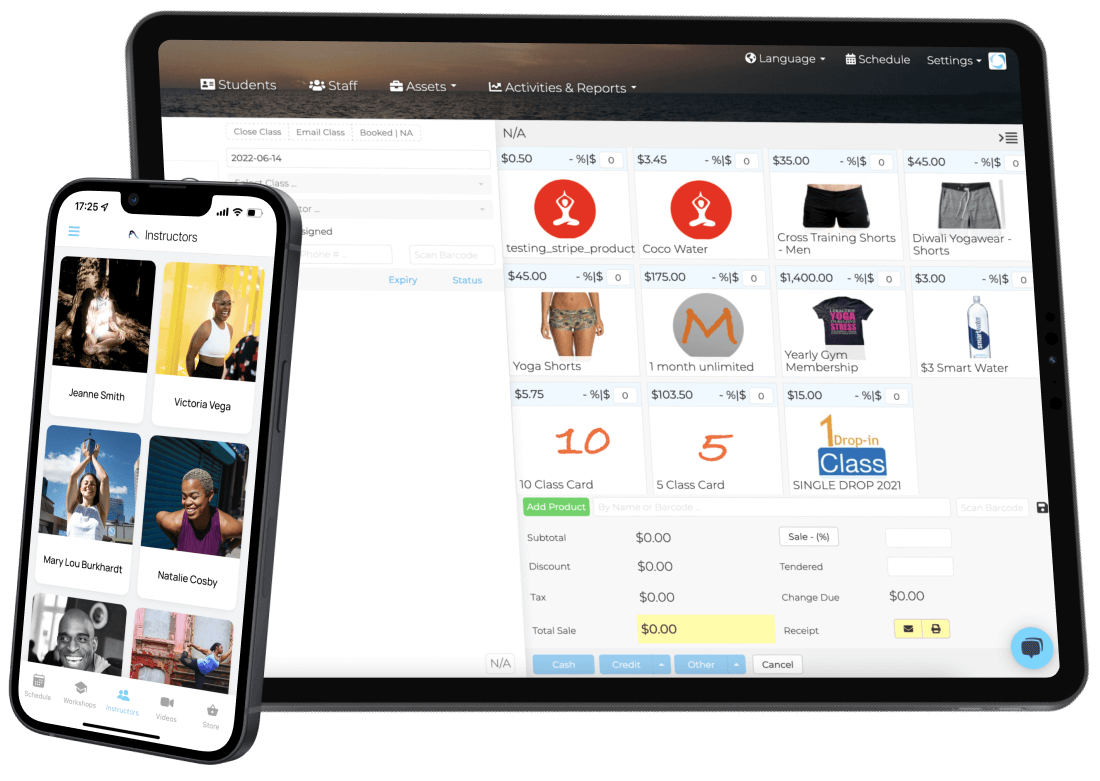 On the web,
mobile or tablet

Karmasoft is accessible for your staff and members from any device.

We provide your community with free apps for Android and iOS, so everyone can easily access your schedules and other content, book classes, shop studio's workshops and memberships.


LEARN MORE
Widgets for your website

Use our ready-made code snippets to embed your schedule, video library, shop, and lead forms into your website.





Free mobile app for your clients

When you sign up with Karmasoft, your members receive a free mobile app that allows them to book classes in your studio, enjoy pre-recorded video classes, and shop in your online shop anytime, anywhere.

On Social Media

Your classes can be booked directly from your Facebook business page.






Membership management
Design and manage membership plans.
Notify members when their membership expires to ensure they renew on time.
Monitor attendance and overview retention reports.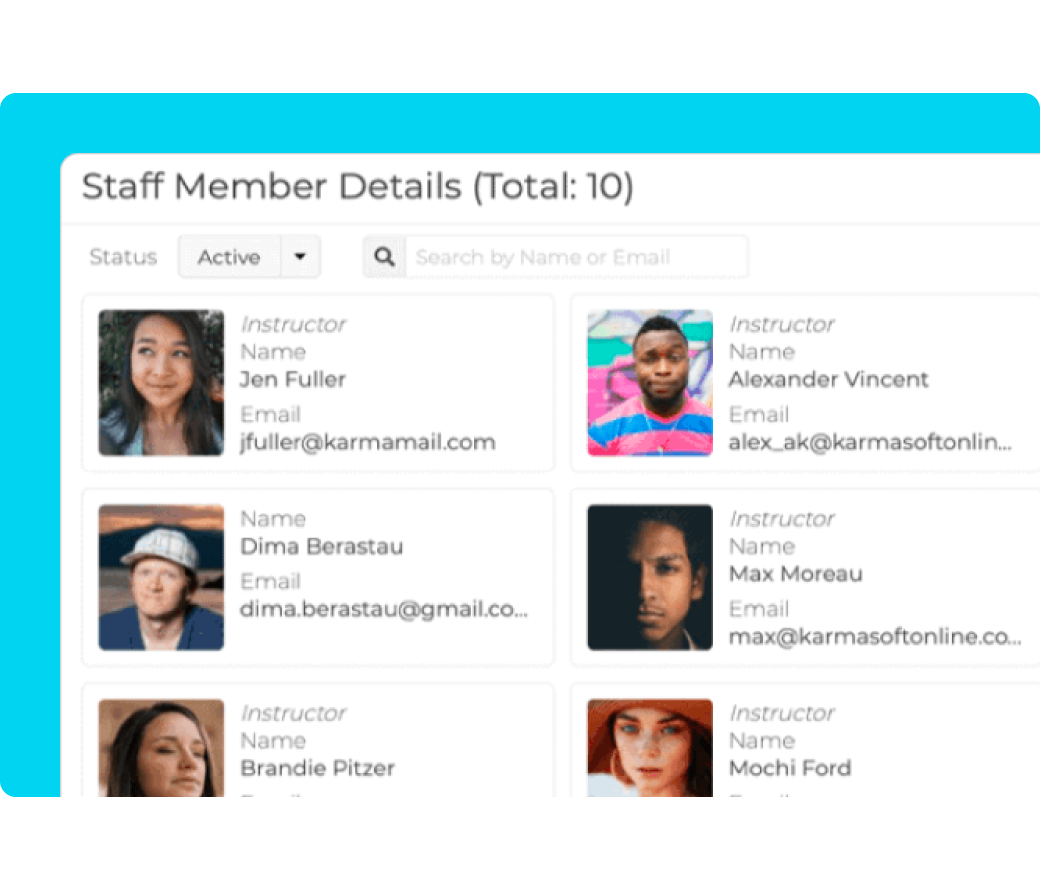 Staff management & Payroll
Manage your staff and access rights.
Assign classes and allow substitutions.
Keep track of staff hours and performance.
Automate payroll.
Sales & Inventory Management
Allow your customers to purchase gift cards, memberships, training supplies and merchandise through your own online shop.
Create it quick and easy right in the app, and then embed it into your website with our ready code snippets.
See sales reports to define best-selling classes and memberships, most popular payment methods and much more.
Monitor your inventory to keep up with demand using an automated inventory counting feature.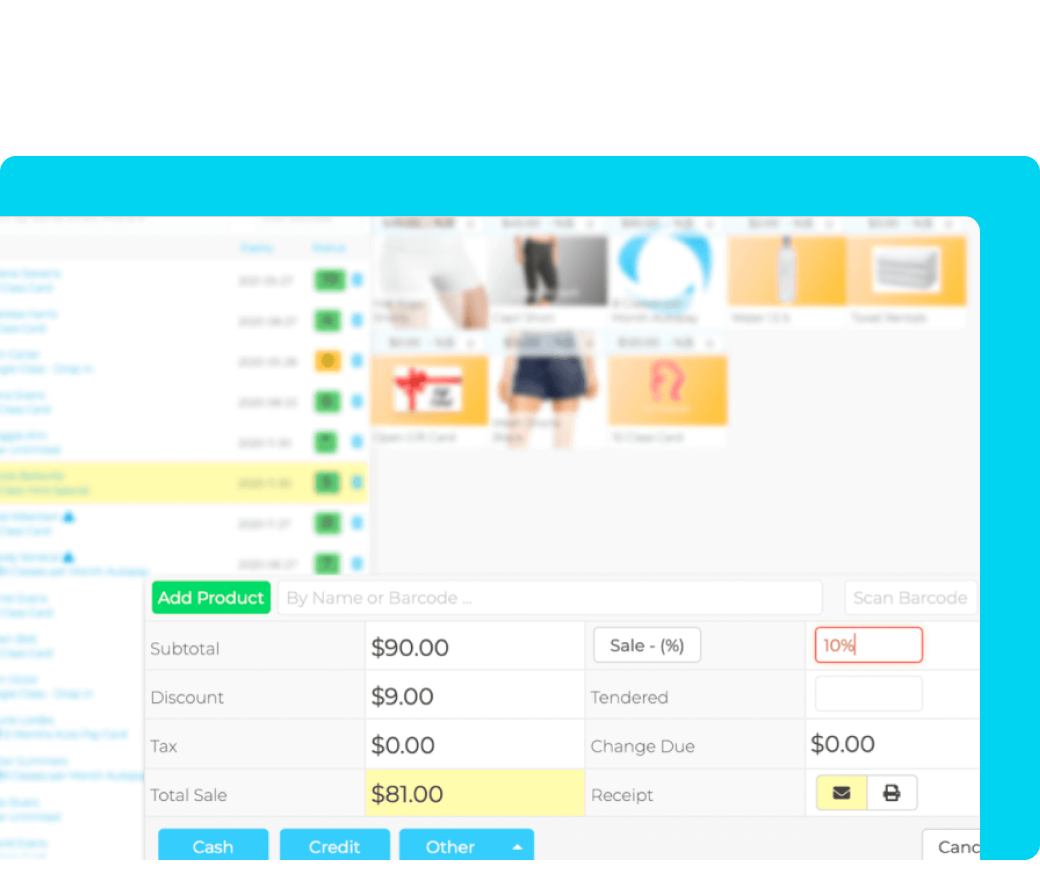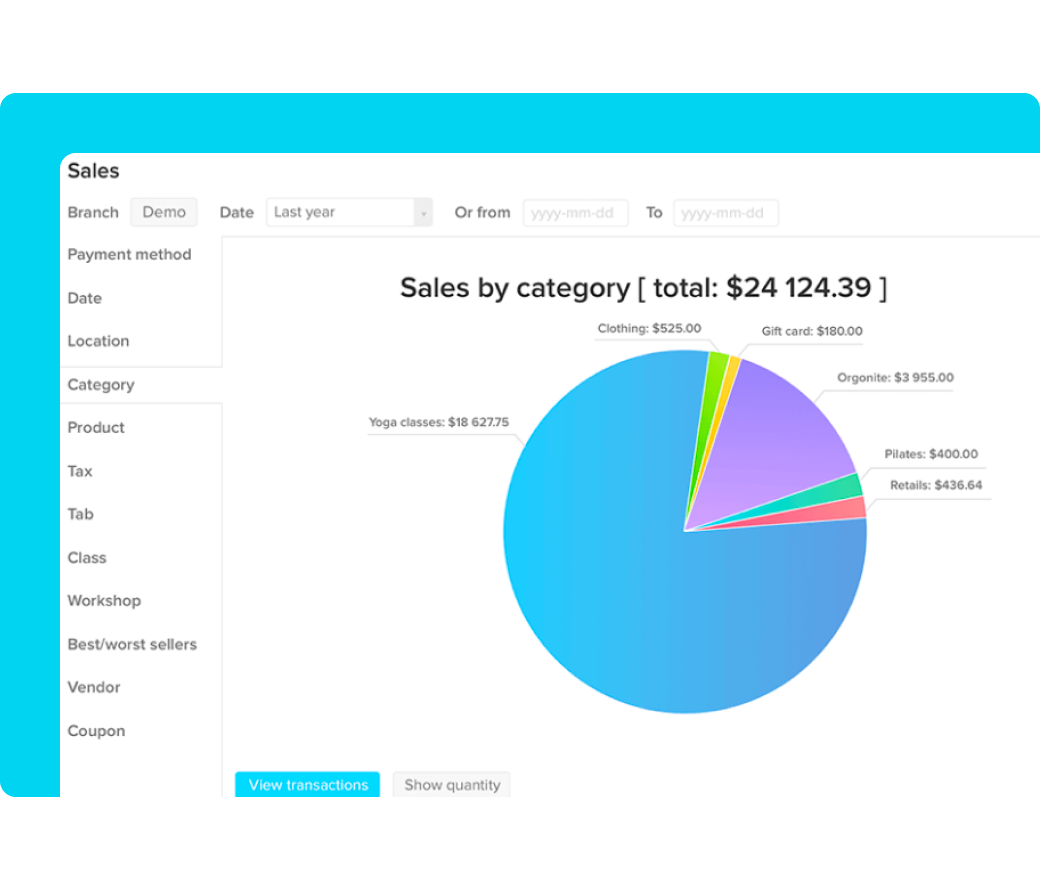 Automated reporting
Keep track of your studio's performance.
Explore sales and inventory reports, employee reports, membership reports, and much more.
There is everything you need to identify and work on your growth points to ensure stable development of your business.
Virtual training
With Karmasoft's virtual training solution, you can easily move your yoga classes online.
Integration with Zoom allows you to host live classes.
On-demand video libraries let you upload pre-recorded classes and grant students 24/7 access.
Just schedule a class, add a link, check payments, and run the course in a single system.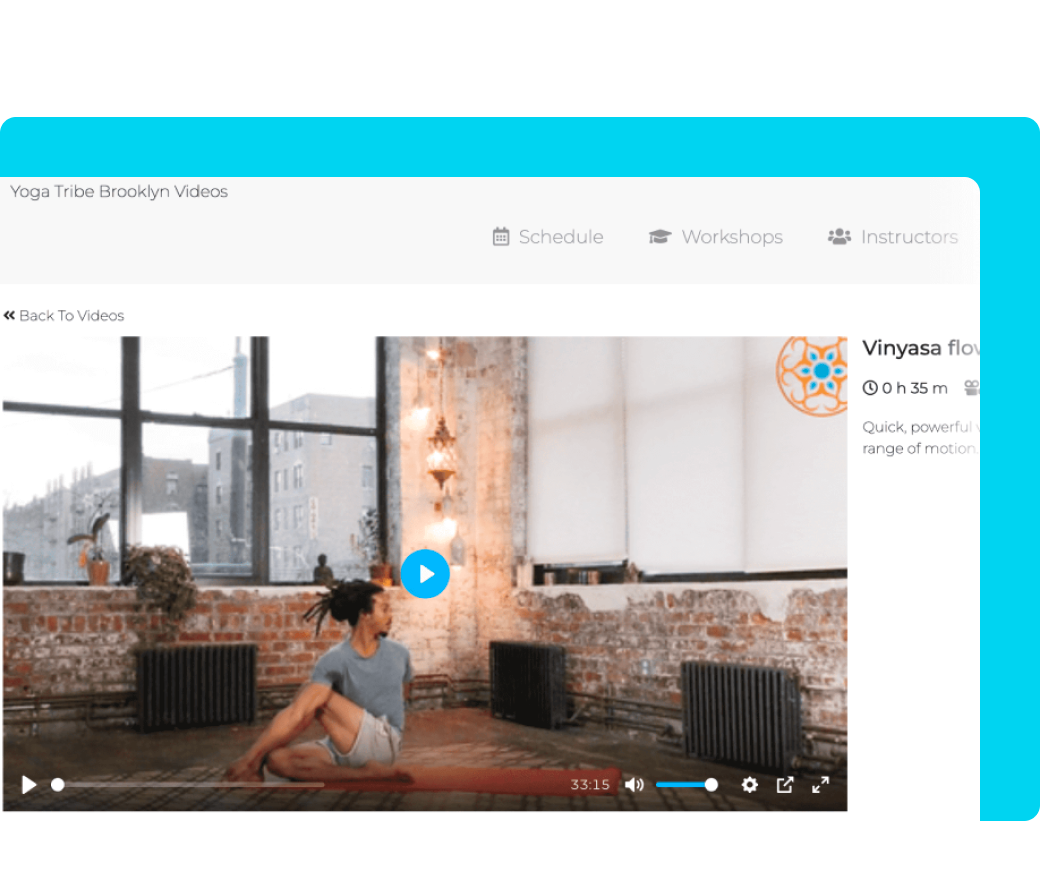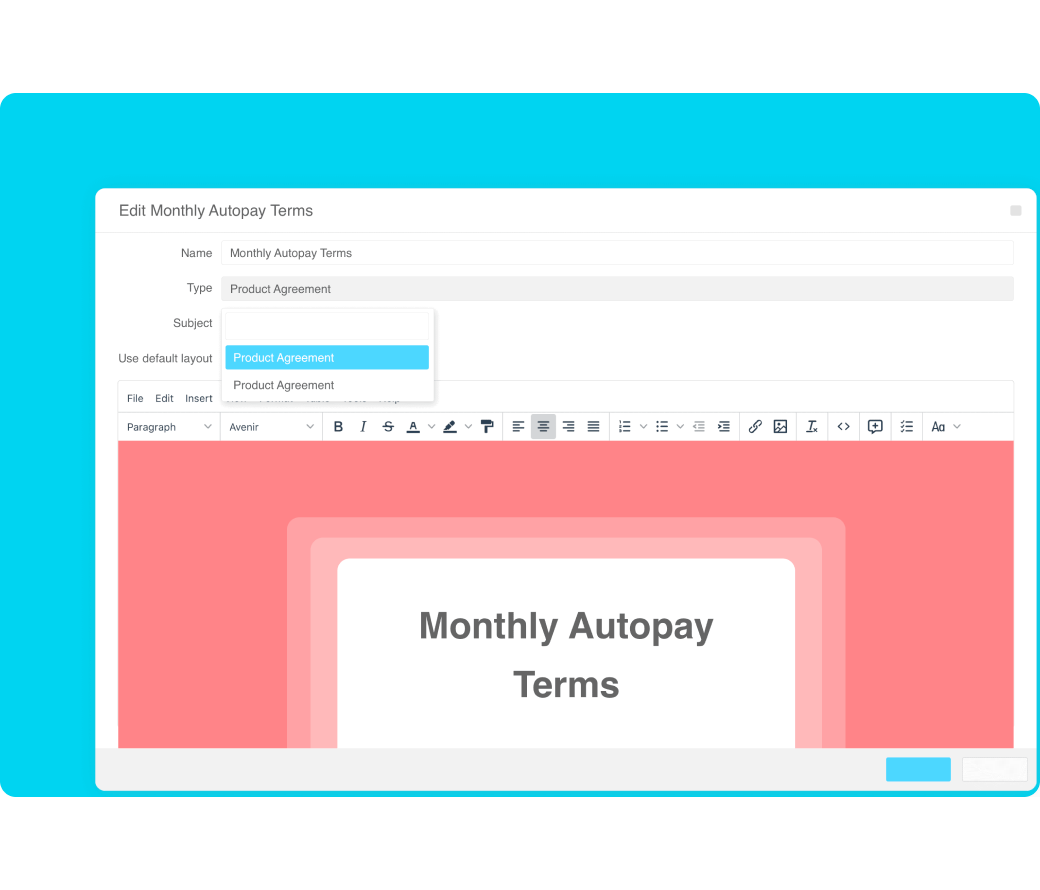 Marketing (email, SMS, social media)
Promote your offerings
Notify members of upcoming classes.
Share news, and always stay in touch with your community with our ready-to-use email templates, social media automation features, and SMS notifications.
Payment processing (Point-of-Sale & Autopay)
Benefit from fully integrated payment processing to manage payments in the studio, on the website, and in the app in one place.
Use flexible recurring billing with direct payment and ensure a stable monthly cash flow.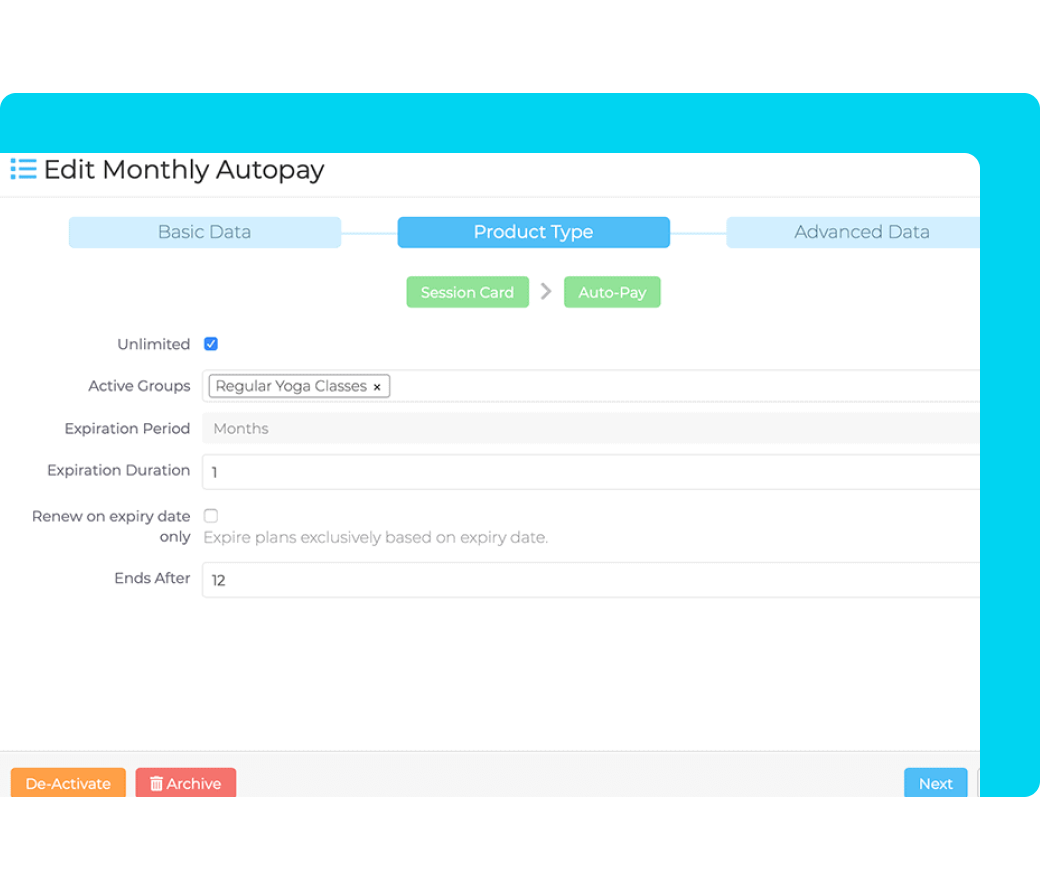 What clients say about Karmasoft
"Our whole team loves Karmasoft. Many of our teachers have worked with other systems that are complicated and time-consuming. Karmasoft's ease of use and nearly seamless credit card interface are a blessing."

Richelle R.
"The interface is direct and simple, especially for check in and sales functions. The staffs are always accessible and really good people. They're responsive and easy to work with."



Jim K.
"Seven years in and having had experience with various software options, I have found Karmasoft to be, hands down, the BEST. The program is efficient and affordable and thorough in its capabilities."

Kelsey C., YogaSol Alaska
Frequently asked questions
What is yoga studio software?
Yoga studio software usually represents a set of tools that help studio owners and administrators automate management of their yoga business. Most often it includes a yoga class scheduling solution, booking system for yoga classes, functionality for membership management, as well as sales & marketing toolkit.
---
How do I set up an online yoga class?
With Karmasoft you can schedule and set up online yoga classes fast and easy. Thanks to Zoom integration you can generate a link for future online class, then when scheduling an online class, choose the class type "online", and add your Zoom link. And you're all set!
---
How much does a yoga studio app cost?
The prices for yoga studio applications vary from company to company, and depend on what functionality you require. Karmasoft plans start at $95 for basic functionality, including a yoga class scheduling solution, booking system for yoga classes, sales toolkit and automotive reporting, which is enough for many studios. If you'd like to learn more about pricing plans, click here.
---
Does Karmasoft provide support?
When you join Karmasoft, you get not only the application but also you get our full support - from complete set-up to free lifetime assistance with everything related to the Karmasoft app.
---
What are the system requirements?
Karmasoft is available on any device and from anywhere with an internet connection. All you need is a web browser (we recommend the latest versions of Chrome, Safari or Firefox).
---